First of all, women need to be careful about their service to Allah and to be devout. In this respect they need to pay attention to their prayers and worship in addition to being sensitive about what is lawful and what is prohibited in Islam.
A woman's piety should manifest in her family through encouraging her husband, her children, her relatives and even her neighbors to give charity and perform good deeds. A pious woman is like a sweet-smelling flower of Paradise!
The most important task of a woman, after service to Allah, is to make her husband and her other family members happy. Making her husband happy and not shadowing the happiness of the family will grant a wife the contentment of Allah the Almighty. In fact the Prophet (peace and blessings be upon him) says in this regard:
A pious woman makes her husband happy when he looks at her face; she fulfills her husband's licit requests and when he is away from her, she protects his property and honor. (Ibn Maja, Nikah, 5/1857)
Therefore a pious woman looks for ways to make her family happy and she finds them.
---
Q – Can we elaborate this matter a little more? To what things does a wife need to pay most attention in her daily life and in her house?
At home she must take great care of herself. She needs to be clean and well-groomed. Being untended and dirty will make her husband lose his respect for her. A wife should stay away from all appearances that her husband does not like, because if a man cannot find what he looks for in a woman in his wife, his heart may turn toward what is inappropriate and prohibited, which will destroy the happiness and peace in the family. So a wise woman offers herself like a bouquet of flowers to her grateful husband. It is in her best interests that he look forward to being at home in the evening.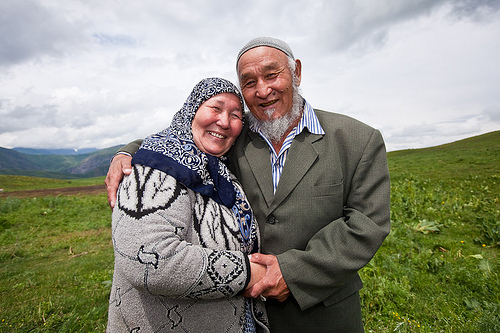 A pious woman should meet her husband at the door with a smiling face and in the morning should send him off to work with kind words and prayers. Even if her own day's work has exhausted her, she should conceal her fatigue and not make a wry face in front of him. She should share her husband's worries and help him to relax.
She should keep the counsel of her own emotions rather than disturb the tranquility of the house. Umm Sulaym (may Allah be pleased with her), a Companion of the Prophet (peace and blessings be upon him), gave an extraordinary example of such behavior. Even the death of her child did not overcome her compassion toward her husband. According to the narrative, Abu Talha's son, who had been gravely ill, died when his father was not home. Umm Sulaym (may Allah be pleased with her) washed and enshrouded the body. She commanded the other members of the household, "Do not tell Abu Talha of his son's death before I tell do." When Abu Talha came home, he asked, "How is my son?"
Umm Sulaym (may Allah be pleased with her) replied, "His pains are relieved and I think he is resting right now." Then she brought her husband dinner and after that they went to bed. In the morning, when Abu Talha wanted to go out, Umm Sulaym said, "Abu Talha! What do you think of what our neighbors did? I left something in their trust and they did not give it back when I asked for it."
Abu Talha (may Allah be pleased with him) said, "They did wrong."
Then Umm Sulaym said, "O Abu Talha! Your son was entrusted to you by Allah the Almighty. He has reclaimed His trust."
For a while Abu Talha was baffled and quiet. Then he said, "We belong to Allah and to Allah we are continuously returning."
When Abu Talha (may Allah be pleased with him) went to the mosque for prayer, he told everything to the Messenger of Allah (peace and blessings be upon him). The Prophet prayed for them, "O Allah! Bestow your blessing upon them with regard to that night of theirs."
Less than a year later, Allah granted the couple another son. The Messenger of Allah (peace and blessings be upon him) took a date, chewed it, took some of it out of his mouth, put it into the child's mouth and named him Abdullah – "Servant of Allah." It is narrated that seven out of Abdullah's nine children memorized the whole Qur'an as a result of the blessings of the aforementioned prayer. (Bukhari, Jana'iz, 42: Aqiqa, 1; Muslim, Adab, 23: Fada'il al-Sahaba, 107).
---
Q – What other things does a wife need to be careful about in her relations with her husband?
She should never neglect her husband and never put him in second place among the members of the family. A normal man cannot accept to be in second place, for that is against his nature. Continue reading →